NYLABONE TO LAUNCH EDIBLE WILD 'SNACKS' RANGE AT CRUFTS 2018.
Visitors to Crufts 2018 are in for a treat in more ways than one! Nylabone, the global pet brand renowned for its dog chew toys and dental solutions is using the world's largest dog show as the venue to launch its new range of edible wild themed 'Snacks' in the UK.  The unveiling of the new range will take place on the Paws Trading stand, where visitors will be able to view and sample the range.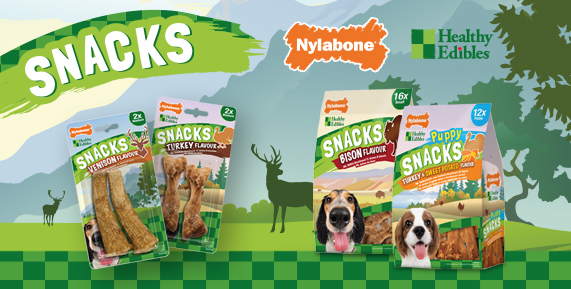 With an authentic wild bone shaping to encourage chewing and help prevent the build-up of tartar the 'Nylabone Snacks' are made from a limited number of ingredients. They are free from artificial colours, flavours and preservatives, have no added salt or sugar, are low in fat, and GMO free.  Following the stand out 'wild' theme, the range is available in a choice of bison, turkey, venison, and turkey & sweet potato flavours ensuring that they stand out from the standard flavours of other brands. Suitable for puppies and adult dogs, the 'Nylabone Snacks' are available in puppy, small, medium, and large sizes.  As with all dog treats the new Nylabone Snacks range should only be given according to feeding guidelines.
The new range has fully EU compliant ingredients and packaging and comes in three sizes of blister packs and pouches.